The author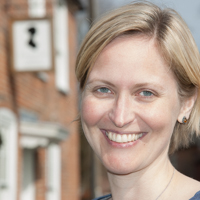 Karin Quint (1976) is a journalist, photographer and founder of the Dutch website and community JaneAusten.nl. She first became acquainted with Jane Austen's work in the 1990s when she bought a well-thumbed copy of De Gezusters Bennet (The Bennet Sisters) at a flea market for just ten cents. Unknowingly she had just purchased one of the best-loved novels in English literature – Pride and Prejudice. She read the book in one go. From that moment, she was hooked and became a true "Janeite" – as Jane Austen's most fanatic fans are called.
In 2009 she started JaneAusten.nl and through this website got to know many Austen lovers from The Netherlands, Belgium and further abroad. Over the years, she was increasingly asked for advice about making Jane Austen tours. But a guidebook containing all locations related to Austen and her work was nowhere to be found. While on an Austen pilgrimage of her own in Lyme Regis, she decided to write one herself.
The publisher
Gottmer Publishing Group was established in 1940 by printer Jan Hendrik Gottmer. More than 75 years later they have grown into a dynamic, versatile and modern concern with a well-established and distinguished publisher's list. They publish a broad spectrum under a variety of imprints:
– Gottmer – children's and juvenile books
– Becht – cookery & crafts
– Altamira – body, mind & spirit
– Dominicus – travel guides
– Hollandia – nautical books
The translator
Holtwrites: Karen Holt (1959) was born and raised in the U.S., and moved to the Netherlands after receiving her BSc in Journalism from the University of Florida. She began her professional career in the Dutch music industry, first as press manager for Music & Media/ Flying Dutchman Promotions, and later as Benelux Representative for the U.S. Country Music Association. In 1999, Karen joined Baxter Communications where, as Senior Communications Consultant, she specialised in advanced English-language translation, editing and copywriting of commercial texts for major Dutch companies.
Thanks to this extensive experience, Karen has keen insight into the unique requirements of creating high-quality Dutch-to-English translations that are not only accurate, but also easy and enjoyable to read. In May 2016, she began her own company – Holtwrites – for the pleasure of focusing on individual projects that specifically catch her interest. As a fervent Jane Austen fan – AND an experienced and enthusiastic user of Het Engeland van Jane Austen – Karen is delighted at the opportunity to make this unique guidebook accessible to a wider, English-language audience.